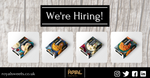 We are Recruiting for an Electrical Engineer
The ideal candidate will come from an Electrical engineering, Food industry background and should be able to work on their own initiative, be a time served engineer with multi-skills and have an experience for the fast moving packaging/Sealing machine/Depositor/Conveyor belt/Metal detector/ flow wrappers/ maximising machine etc .
Responsibilities

The successful candidate will be responsible for all aspects of day-to-day engineering and maintenance activities ensuring work is carried out to the highest standards and maximising machine efficiencies. If you have worked on PLC systems, it would be advantageous. You will be expected to work flexible time (sometime weekends) as per our production demands.
If you are interested in this role please send a copy of your current CV to hr@bombayhalwa.com. 
Interviews will be held locally, and the company is looking to recruit this role as soon as possible.